Nicholas Arbolino
Oboe/English Horn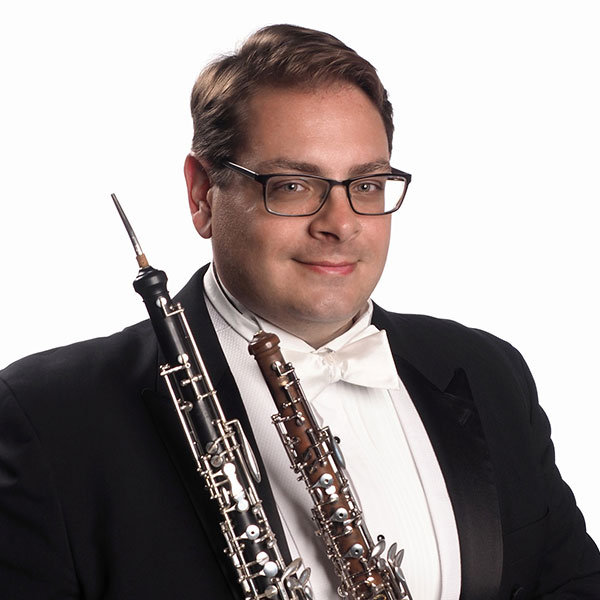 Oboe
First year with SO: 2014
Hometown: Plano, TX
Instrument: Nick plays a Howarth with a synthetic top joint. It's made of a material called ebonite and it mimics the resonant properties of rosewood.
When asked about the oboe's role in the orchestra, Nick said, "The oboe and English horn are a part of the double reed family along with the bassoon. These instruments are unique in the orchestral landscape as the performer has the opportunity to make by hand a piece of their instrument. Literally crafting their instrument's voice. Oboes are most often made from an African Blackwood called Grenadilla, but can also be made of more exotic woods such as cocobolo, rosewood, violet wood, and even maple! Each wood significantly alters the acoustic properties of the instrument and can subtly shape the sound."
---
Education:
Bachelor of Music - University of North Texas; Master of Music - University of North Texas
Biography:
Nicholas Arbolino joined the Sarasota Orchestra as Second Oboe and English horn in 2014. He has previously performed as the Principal Oboist of the Garland Symphony, Symphony Arlington, and the Las Colinas Symphony Orchestra in the Greater Dallas area. He has also appeared as Guest Principal Oboe with the Monroe Symphony (LA), The Dallas Chamber Symphony, and the Amarillo Symphony. He earned a Master's degree, graduating summa cum laude from the University of North Texas under Dr. Charles Veazey. Mr. Arbolino has performed in several summer festivals including the Chen International Cultural Arts Festival (Eureka Springs, AR), the Aspen Music Festival and School (as the sole English horn fellowship recipient), the Alba Music Festival (Alba, Italy), and currently spends his summers as Principal Oboe of the Charlottesville Opera.
Passions/Interests:
When Nicholas isn't onstage with his colleagues, he can most likely be found at his reed-making desk! An essential part of performing on oboe and English horn is crafting reeds by hand. He has a passion for opera, Uilleann pipes, and traditional Celtic music. Outside of music, Nicholas also loves all things cars, watches, cooking, kung-fu movies, and a fine scotch.
Career Highlights:
Some of Nick's fondest musical memories include:
Playing English horn for a performance of Dvořák's New World Symphony at the Rudolfinum, Dvořák Hall in Prague
Performing as English hornist with Music Director Anu Tali and the Sarasota Orchestra in Sibelius' Lemminkäinen Suite