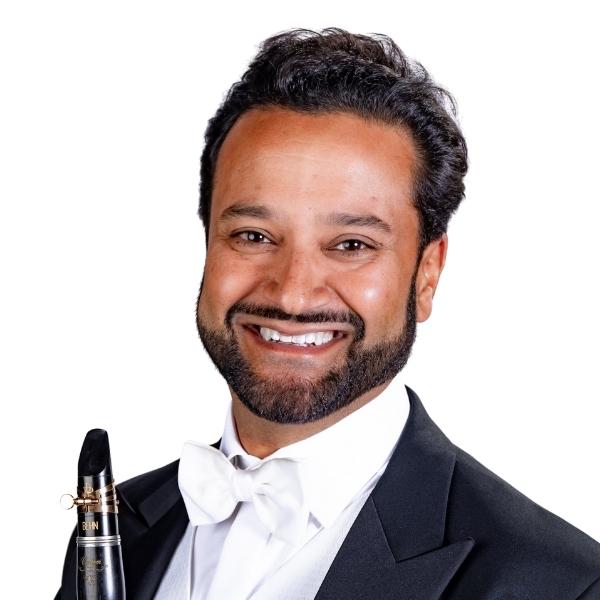 Clarinet
Maj. Gen. Ray & Margaret Mason Chair
First year with SO: 2001
Hometown: Kansas City, MO
Instrument: Bharat Chandra performs exclusively on Yamaha Custom Series German Clarinets and D'Addario Clarinet Reeds
"The Clarinet is the soul of the orchestra, both a chameleon and a solo voice. In the orchestra it bridges the expansive lines of the French Horns and the virtuosic fluidity of the Violins. In historical terms it's one of the youngest members of the orchestra, being born into the latter symphonies of Haydn and Mozart and not coming to full fruition until the European romantics took hold (and of course the masters of the Great American Jazz era). The American clarinet tradition is a hybrid of older German and French traditions (with a "little English" in there for some). And, in recent decades it has reflected back upon the international clarinet world, helping inform and unify what is considered the modern clarinet sound of today. My instruments reflect these worldly elements precisely: they are African wood, designed and manufactured in Japan, use a modified German bore, and present a modernized French key system. The sound? Well, come hear for yourself!"
---
Education:
Bachelor of Music in Clarinet Performance, Minor in Ethics – Southern Methodist University; Master of Music – New England Conservatory of Music; Three years of post-graduate fellowship at the New World Symphony in Miami.
Biography:
Bharat Chandra is a clarinetist whose earnest passion for music and live interaction with audiences has taken him across the world as a soloist, chamber musician, and orchestral player. He currently serves as Principal Clarinet of the Sarasota Orchestra and of the Nordic Symphony Orchestra, led by Anu Tali. During summer, he serves as Principal Clarinet of the Cabrillo Festival of Contemporary Music, led by Cristian Măcelaru.
At Cabrillo, Bharat gave the United States premiere of Mark Anthony Turnage's clarinet concerto, Riffs and Refrains, to unanimous critical acclaim with Marin Alsop and the Festival Orchestra. Bharat has also maintained a small teaching studio in Sarasota and has given masterclasses at Michigan State University and the University of Southern Florida, among others.
Recent seasons have included Bharat serving as Guest Principal Clarinet of the Sydney Opera House, the Oregon Symphony in Portland, and Music in the Mountains in Colorado. He also gave his chamber music debuts at Lincoln Center, the Ravinia Festival, and the International Beethoven Festival with the Lincoln Trio. Solo appearances included the Ringling International Arts Festival and the Brevard Symphony Orchestra.
Guest appearances with the Baltimore Symphony, chamber music with Andrew Armstrong's "Music on Main" series in South Carolina, and solo performances of the Copland Concerto and Strauss Duo Concertino in Sarasota concluded a vigorous 2019 season.
Passions/Interests:
Outside of music, Bharat enjoys photography, poetry, and Frisbee with his dog. Bharat also enjoys cooking with his daughters and drinking wine with my wife. For Bharat, family time with his wife, sisters, brother-in-law, and niece, Aubrey, and nephew, Cleo is heaven on earth. He is a big fan of the Dallas Cowboys and the Kansas City Royals, and loves Jack Stack BBQ.
Career Highlights/Musical Accomplishment:
Some of Bharat's fondest musical memories include:
Being presented the Gunther Schuller Medal from the New England Conservatory in front of my father, Sharat, my teacher, Richard Stoltzman and my fellow graduates - a complete surprise
Performing Copland's Clarinet Concerto with Michael Tilson Thomas conducting. Serving as Guest Principal Clarinet at the Sydney Opera House
Chamber music at the Ravinia Festival and Lincoln Center
Performing with the extraordinary musicians of the Sarasota Orchestra, the Cabrillo Festival of Contemporary Music (Santa Cruz), and the Nordic Symphony Orchestra (Tallinn) where the musicians represent at least 12 different nations