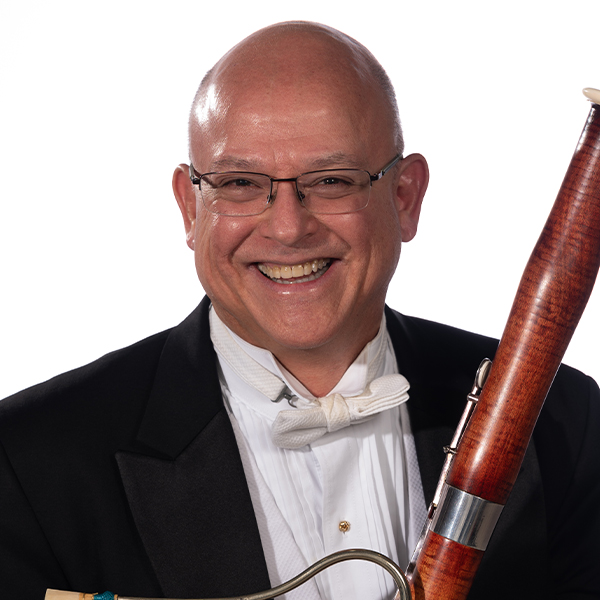 Bassoon
First year with SO: 1992
Hometown: Mexico City, Mexico
Instrument: Fernando's bassoon was made by the Heckel Company (based in Wiesbaden, Germany) in 1923. They have been making bassoons for almost 200 years and are considered the "Stradivarius" of the Bassoon world. Bassoon's (and contrabassoons) have 23 keys; Because of this, they are woodwind instruments that require all ten fingers to operate, unlike the flute, oboe, and clarinet. Fernando's bassoon is made out of Maple wood. After the wood is cut from the tree, it has to wait over ten years before it can be used to make a bassoon.
---
Education:
Bachelor of Music and Master of Music – Cleveland Institute of Music; Artist Diploma – The Juilliard School of Music
Fernando's first and only teacher in his youth was his father, Timoteo Traba, former principal bassoonist of the National Opera Orchestra in Mexico City. In 1981, Fernando arrived in the United States to pursue Bachelor of Music and Master of Music degrees at The Cleveland Institute of Music, studying with George Goslee (former principal bassoon of the Cleveland Orchestra), followed by an Artist Diploma at The Julliard School as a student of Judith LeClaire (principal Bassoon of the New York Philharmonic) and Steven Maxym (former principal bassoon of the Metropolitan Opera Orchestra).
In 1992, Fernando moved to Sarasota and met the late Charles Robert Reinert (former Bassoon professor at SUNY Potsdam). He became Fernando's best friend, musical "Coach", and the best man at Fernando's wedding in 1998. The two talked bassoon, music and life until his passing in 2007 at the young age of 94.
Biography:
Fernando Traba has served as Principal Bassoon with all five major orchestras in Mexico City, as well as the Orchestra of the Principality of Asturias (Spain), National Opera Orchestra, (Portugal) and Orquesta Sinfónica de Minería (Mexico). He has performed the major bassoon concertos with orchestras in Mexico, Europe, and the United States, including multiple performances with the Sarasota Orchestra. Most recently he was heard in three performances of R. Strauss's Duet-Concertino with clarinetist Bharat Chandra and the Sarasota Orchestra (February 2019). 
An avid chamber musician, Mr. Traba has been a member of the Sarasota Wind Quintet since 1992, and has also performed with Instrumenta (Mexico), the Palm Beach, and ChamberFest Cleveland Music Festivals. Mr. Traba has a private bassoon studio, serves on the faculties of Florida Southern College (Lakeland) as well as State College of Florida (Bradenton), and has edited and translated into Spanish the second edition of Christopher Weait's Bassoon Reed Making: A Basic Technique.
Passions/Interests:
Fernando enjoys gardening, auto mechanics, and following his two daughters' swimming careers.
Career Highlights:
Some of Fernando's proudest musical accomplishments include:
Auditioning and winning Principal Bassoon positions in orchestras in four different countries: Mexico (2), Portugal (2), Spain (1) and USA (1)
Teaching students in Mexico and the United States that have become professional bassoonists themselves