Treasures
Chamber Soirée 3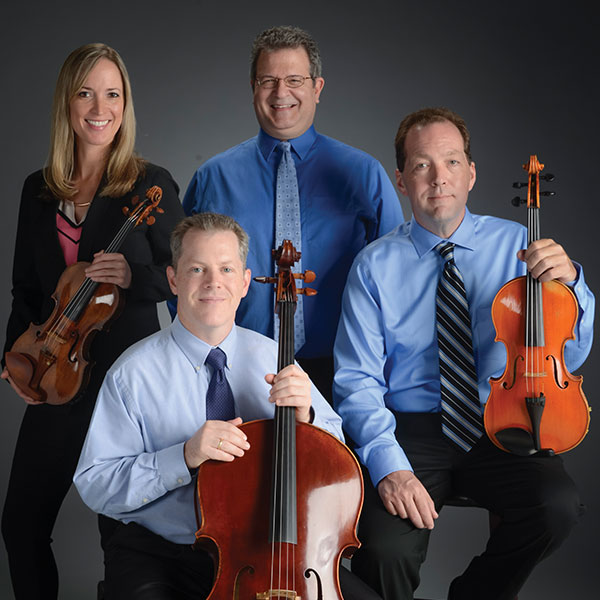 October 22, 2017
Sunday | 4:00 pm | Holley Hall
We bring you two giants of chamber music: Dvořák and Fauré. Dignified throughout, Dvořák's lovely Wind Serenade is simply alluring. Brahms wrote of the Serenade: "It would be difficult to discover a finer, more refreshing impression of really abundant and charming creative talent." Fauré's Quartet is a work of awesome power. It is beauty personified and is at times playful, grieving and serene. At all times, it carries within it the emotional weight of a symphony, ranging from heartbreak to great jubilation.
Serenade in D Minor, Op. 44
Antonín Dvořák (1841-1904)
The eighteenth century witnessed the birth of many of the important genres in classical music, with the symphony, the string quartet, and the piano trio, among the most prestigious. The instrumental serenade was another, written in a light vein designed primarily for entertainment and even as background music for social gatherings and dinner parties. It developed as a hybrid of chamber and orchestral music, as well as the dance suite, with three to ten relatively short movements. The serenade often involved unusual instrumental combinations, as in Mozart's Serenade for 13 Wind Instruments (the Gran Partita), which served Dvořák as a model for his Second Serenade. Wind ensembles (or, in German, Harmonie bands) were particularly suited to outdoor entertainment; Mozart composed a slew of them.
Dvořák's second venture into the Serenade came in 1878. This one he scored for two each of oboes, clarinets and bassoons, one contrabassoon, three horns, cello, and double bass. The Serenade was premiered in Prague the same year and published less than a year later. Brahms again served as guardian angel, promoting Dvořák to his own publisher, Simrock, who offered him his first commission, the Opus 46 set of Slavonic Dances. Dvořák quickly became a sought-after composer, courted by publishers, performers and audiences.
The D-minor serenade is a skillful handling of contrasting moods, opening with a somewhat gloomy military march, followed by a minuet featuring a beautiful clarinet solo, framing a lively trio. The third movement Andante con moto, a dark pastoral idyll, is the longest and weightiest movement but blows the clouds away with a lightweight coda. The work concludes with an energetic Finale, with a second section recalling the Slavonic Dances.
---
Program notes are written by
Joseph and Elizabeth Kahn.
Wordpros@mindspring.com
www.wordprosmusic.com
Piano Quartet No. 1 in C Minor, Op. 15
Gabriel Urbain Fauré (1845-1924)
The bulk of Gabriel Fauré's music – whether piano, chamber, vocal or orchestral – conveys the impression of a personal and private statement, an intimate conversation between the composer and his muse. Throughout his long life, Fauré's ideal was, as he put it, to create musique de chambre; the larger forms – opera, symphonies or concertos – were not for him. His music is admirably suited for performance in private homes or small halls. The elegance and "ease" of much of his music belies the painstaking effort that went into the composition.
It took Fauré a long time to achieve recognition as a major composer. He was a gentle, modest man, who rarely had a harsh word for anybody. Despite his early success as composer of songs and chamber works, he was only appreciated by a small circle of friends. He was 60 when he finally became Director of the Paris Conservatoire in 1905, the most progressive Director the institute ever had. He held the post until 1920.
The C-minor Piano Quartet, graceful, warm and lyrical, is Fauré's second chamber work (after the Violin Sonata, Op. 13). It premiered in 1880 and was subsequently extensively modified before publication in 1884.
The Quartet opens with a vigorous statement on the strings in unison, which is immediately transformed into a gentler melody. The second theme is introduced by the viola, then taken up by the other instruments.
Fauré solves the difficult problem of integrating the piano with the strings by often treating the keyboard instrument in the manner of a harp. This is particularly effective in the scherzo, where glissandolike runs create a stunning gossamer effect.
The grave and melancholy Adagio is deeply intense, perhaps a reflection of Fauré's distress at the breakup of his engagement to Marianne Viardot, the daughter of a famed opera singer. The movement is essentially through-composed (without repeats). The Finale returns to the powerful drive of the opening movement, surging to an exultant finish.
---
Program notes are written by
Joseph and Elizabeth Kahn.
Wordpros@mindspring.com
www.wordprosmusic.com
Featuring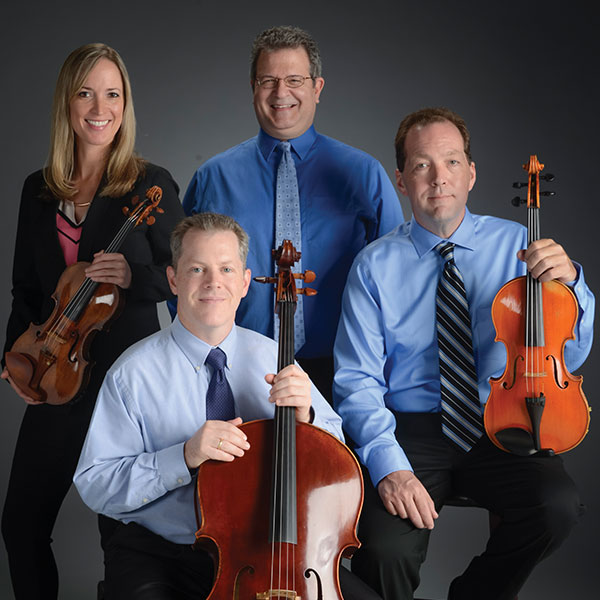 Sarasota Piano Quartet