Violin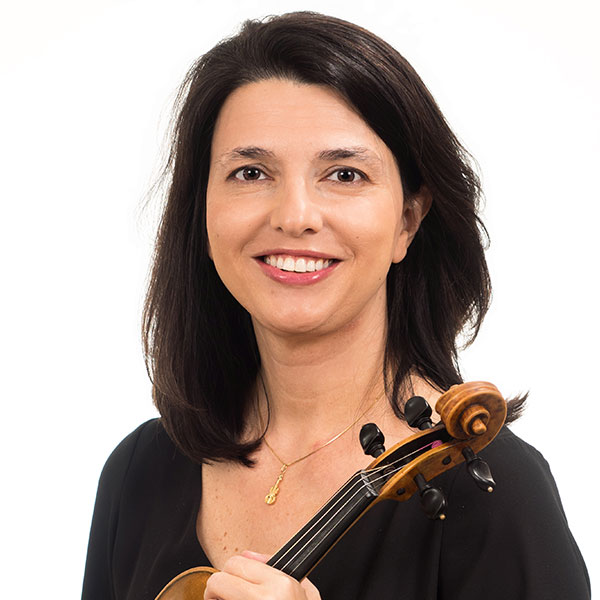 Miscellaneous Information
First year with SO: 2003

Hometown: Santa María, Rio Grande do Sul, Brazil

Instrument: Milene's violin was made by a Japanese-American maker named Tetsuo Matsuda in the year 1988.

---

Education:
Bachelor of Music – Federal University of Rio Grande do Sul; Master of Music – Carnegie Mellon University; Performance Diploma – Hartt School of Music; Arts Diploma – Freiburg Musikhochschule

Biography:
Brazilian violinist Milene Moreira is currently a member of Sarasota Orchestra and Sarasota Opera. Prior to joining Sarasota Orchestra in 2003, Milene served as Concertmaster of ULBRA and Teatro São Pedro Chamber Orchestras (Brazil). An active chamber musician Milene also has a Graduate Performance Diploma from Hartt School of Music where she studied with the prestigious members from Emerson String Quartet. During her school years she was a member of Carnegie Mellon New Music Ensemble, and "Con Anima" early music ensemble in Germany. Milene was invited as a fellow to number of prestigious international music festivals such as Orford Music Festival, Conservatoire American de Fontainebleau and Schleswig- Holstein Music Festival. Her orchestral experience includes performing with Hartford Symphony, The Florida Orchestra, Freiburg Theater Opera, Zurich Chamber Orchestra, Basel Theater Opera, The Florida Orchestra. During the summers, she performs and teaches at the Wintergreen Music Festival.

Passions/Interests:
Teaching violin is one of Milene's biggest joys as a musician. She also love cooking Brazilian dishes for friends and listening to Brazilian bossa-nova music.

Career Highlights:
In Germany, Milene collaborated with the prestigious Offenburg Streich Trio and was invited to be a guest artist at Offenburg Kreuzgang Konzerte.