Violin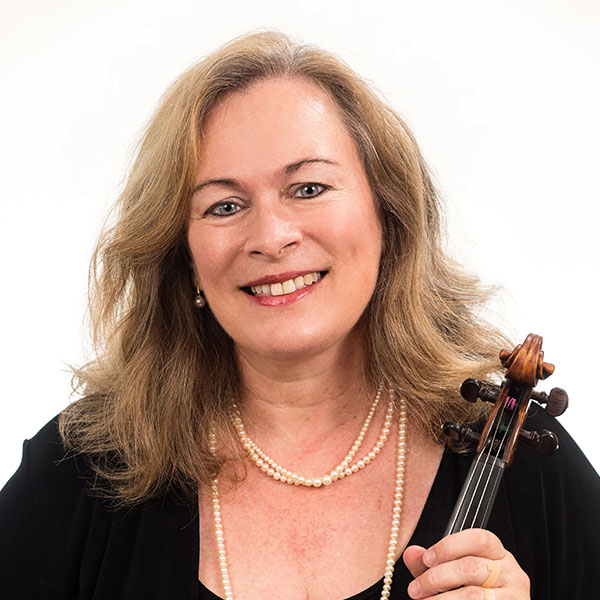 Miscellaneous Information
First year with SO: 1989

Hometown: Minneapolis, MN

Instrument: Felicia plays a beautiful Jean Baptiste Vuillaume of Paris violin made in 1856. This is the Sarasota Orchestra's violin generously donated by the late David Cohen. Felicia feels honored to continue the legacy of playing this violin with the Sarasota Orchestra.

---

Education:
Bachelor of Music – University of Minnesota; Master of Music and Doctor of Musical Arts – State University of New York at Stony Brook

Biography:
Dr. Felicia Brunelle is a longstanding member of the Sarasota Orchestra and concertmaster for "The Pops" and the Missouri Symphony. As an active chamber musician she has performed throughout the United States, Japan, Canada, and most recently in Eisenstadt Austria at the Esterhazy palace, one of the most beautiful Baroque palaces in Austria. In 1989, she was invited to join the symphony as a member of the New Artists String Quartet and was a founding member of the New Artists Piano Quartet. Felicia has worked with the Emerson String Quartet and the Tokyo String Quartet in summer festivals at the Yale Summer School of Music-Norfolk Chamber Music Festival, the Banff Centre in Alberta, Canada, and the popular Tanglewood Music Festival in Massachusetts. Upon graduation, Felicia was appointed Principal Second Violin of the New World Symphony. In 1993, Felicia joined the Missouri Symphony as its Concertmaster where she has frequently appeared as soloist.

Passions/Interests:
Felicia enjoys working with patients on their health using acupuncture. She received training in Sarasota at the East West College of Natural Medicine with a Bachelor of Professional Health Sciences and a Master's degree in Oriental Medicine.

Career Highlights:
One of Felicia's most cherished memories was when she played under Leonard Bernstein as principal second at Tanglewood. The orchestra played Copland's Third Symphony with Copland himself in the audience. Felicia says of the experience: "The first thing he said when we started rehearsals was, 'Who is Felicia?' Apparently his wife was named Felicia, but it really shocked me! The concert was so incredible for me that I cried when it was over and the audience cheered for 20 minutes."