Trombone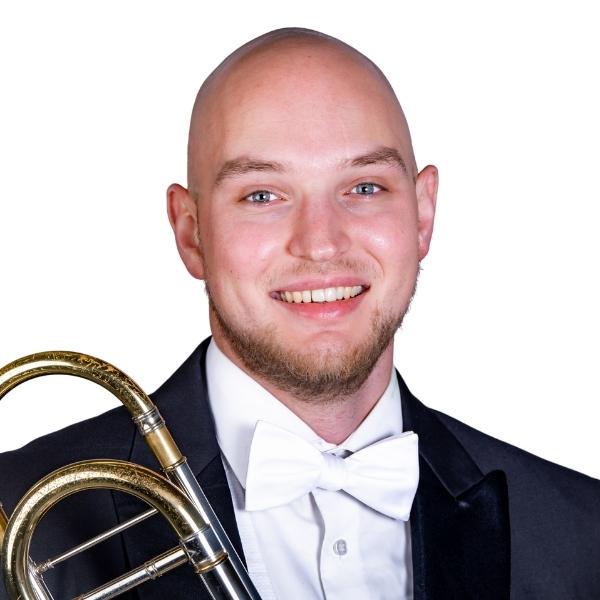 Miscellaneous Information
First year with SO: 2019

Hometown: Kennesaw, GA

Instrument: Steven's trombone is a M&W 322 Tenor Trombone with a yellow gold bell and bass crook slide.

When asked about the trombone's role in the orchestra, Steven said "The trombone section is very team oriented, we treat the section as unit because we rarely have solo moments."

---

Education:
Master of Music – The Juilliard School; Bachelor of Music – Manhattan School of Music

Biography:
Born and raised in Kennesaw, Georgia, Steven has been training with some of the most revered orchestral musicians of our time, Joseph Alessi and David Finlayson of the New York Philharmonic, as well as Nathan Zgonc of the Atlanta Symphony. Steven is also a photographer and writer, using his passions to connect others through creating together. In the summer he enjoys attending some of the most prestigious music festivals, such as the Aspen Music Festival and the Texas Music Festival. Steven is a student at the Juilliard School studying Trombone Performance with the principal chair of the New York Philharmonic, Joseph Alessi and received his Bachelors at the Manhattan School of Music, studying with the Second Trombone of the New York Philharmonic, David Finlayson.

Passions/Interests:
When he's not practicing, Steven enjoys photography, reading, podcasts, biking, and ultimate frisbee.

Career Highlights:
Steven's current favorite musical memory is playing in an all John Williams concert with the Atlanta Symphony, joined by Atlanta's Star Wars fan organization. They played for over 14,000 people!