Double Bass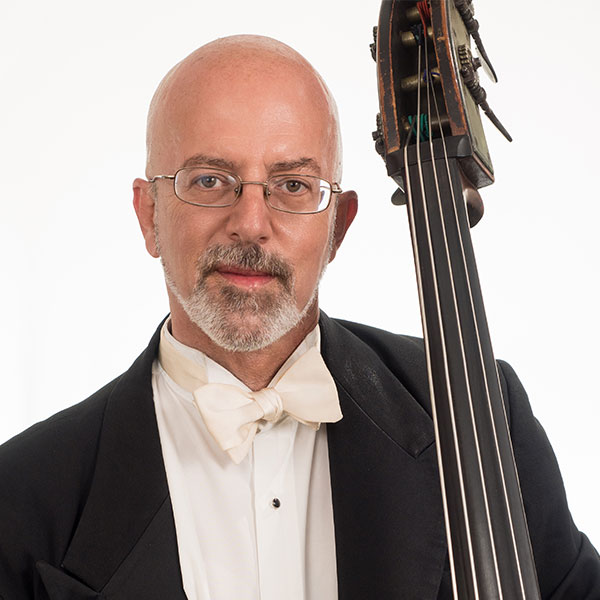 Miscellaneous Information
First year with SO: 1982

Hometown: Pittsburgh, PA

Instrument: Alex plays a 19th-century double bass made by Gemunder, either in Germany or by a German maker who had moved to New York. Alex acquired the instrument when a 94-year-old retired bass player came up to him during an outdoor concert in Fort Myers and asked if he wanted to buy a bass.

---

Education:
Music Performance Studies at Miami of Ohio University and Cincinnati Conservatory

Biography:
After college, Alex came to Tampa Bay in 1982 to play a one-year position with the Florida Gulf Coast Symphony (now Florida Orchestra).  There, he met then legendary principal of the Florida West Coast Symphony, Grace Sexton, who invited Alex to play in Sarasota. Alex auditioned to become a regular section member and subsequently played about six years as assistant principal bass before moving back to the section.

Alex also began working as a freelance musician based in the Tampa Bay area, performing with the Southwest Florida Symphony as house bassist for Tampa Performing Arts Center for its three opening seasons. He also performed with Naples Philharmonic and almost every professional orchestra on I-75 and I-4, Seaside Music Theater in Daytona, nineteen different cruise ships, national and international tours, and one season with the Orquesta Sinfónica de Aguascalientes, Mexico.

Alex now lives in Fort Myers working as Operations Manager for the Southwest Florida Symphony.

Passions/Interests:
In addition to being a fine musician, Alex is a book-a-holic, history geek, and an avid poker player, having won entries to the Main Event of the World Series of Poker twice.

Career Highlights:
Alex gets to make amazing music with fine musicians.