Calvin Falwell
Clarinet/Bass Clarinet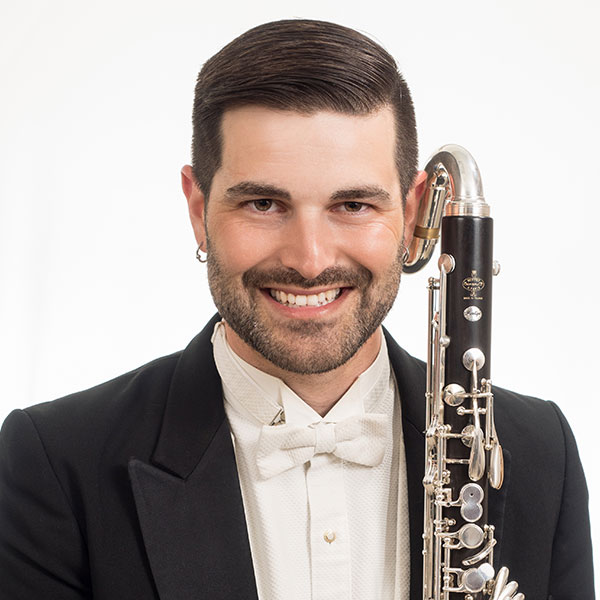 Clarinet
First year with SO: 2014
Hometown: Murray, KY
Instrument: Calvin is both a Buffet Group USA and D'Addario Woodwind Performing Artist and performs exclusively on Buffet clarinet and D'Addario reeds.
---
Education:
Bachelor of Music – University of Louisville; Master of Music – Duquesne University; Finishing PhD. at Columbia University.
Biography:
Currently, Calvin Falwell holds the 3rd/Bass Clarinet chair with the Sarasota Orchestra in Sarasota, FL and is on faculty at the University of South Florida. During the summer months can be found performing with the Colorado Music Festival and Charlottesville Opera Festival.
As an orchestral musician Calvin held positions with the Sarasota Opera Orchestra and the Orlando Philharmonic Orchestra. Calvin has also appeared with the Philadelphia Orchestra, Fort Worth Symphony Alabama Symphony Orchestra, Memphis Symphony Orchestra, Florida Grand Opera, Miami City Ballet, Florida Orchestra, Louisville Orchestra, Lexington Philharmonic and Pittsburgh Opera among others. Additionally, Calvin has toured internationally with the Hollywood Concert Orchestra. Former faculty appointments include The College of New Jersey, Holy Family University, Wilmington University, Hartwick College Music Festival, Blue Lake Fine Arts Camp and AMEROPA Chamber Music Festival.
His principal teachers and mentors include Paul Demers, Ron Samuels, Tim Zavadil and Dallas Tidwell.
Passions/Interests:
Cycling! Calvin loves racing gravel and Cyclocross for Team Outspokin in Tampa, FL. He also loves traveling the world with his family and making sure his son has been to all the National Parks.
Career Highlights/Musical Accomplishment:
Some of Calvin's favorite musical achievements include:
Commissioning and recording multiple works for the bass clarinet that are now considered core parts of the repertoire. Winning a job in a professional orchestra.
Teaching at a major research university.
Performing next to my mentor in the Philadelphia Orchestra.
"Virtuosic bass clarinetists such as Calvin Falwell continue to expand the instruments capabilities and inspire composers to consider it as a solo voice."

The Clarinet
"Great skill and captivating sound."

Clariperu
"Falwell plays boisterously where needed, with an enviable evenness and control of tone throughout all registers."

Gail Lehto Zugger
"One of the best performances of the night."

Creative Loafing Tampa
"Clarinetist Calvin Falwell enthralled the audience."

The Tampa Tribune