Chizuko "Cheeko" Matsusaka
Cello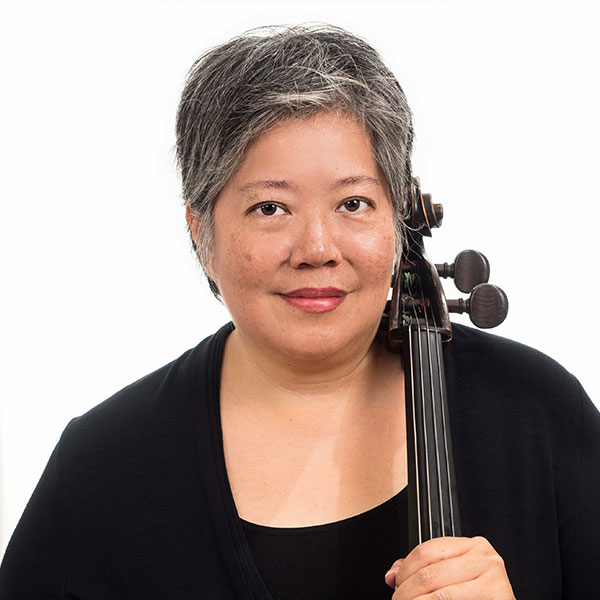 Miscellaneous Information
First year with SO: 2002

Hometown: Waban, MA

Instrument: Cheeko's cello is a beloved Benjamin Banks (1727–1795). The cello was made sometime in 1790 and features Banks' use of distinctive color in his varnishes and the Amati-inspired arching.

---

Education:
BM from New England Conservatory with Laurence Lesser; MM from SUNY at StonyBrook with Timothy Eddy; post-graduate studies at Carnegie Mellon University with Anne Martindale Williams; certification as a CMP from the Music for Healing and Transition Program

Biography:
Born and raised in Waban, Massachusetts, Cheeko first learned about the cello at age six when her mother drove her to pick up a 3/4 sized instrument. Both of her parents were ardent fans of classical music so all 5 children were taught a music instrument. The early part of her profession was dedicated to chamber music. From 1989 to 1992 she was a member of the Westbrook String Quartet; a prize winner at the 1990 Fischoff National Chamber Music Competition; the quartet-in-residence at the Dana School of Music; and held summer residencies with the Aspen Music Center and Tanglewood Music Festival. In 2016, she embarked on a life-long interest in the role of music in healthcare. In August of 2019, she completed 45 patient-hours at Sarasota Memorial Hospital as part of her certification as a therapeutic music practitioner. She worked in coordination with various floor managers and staff members to provide music and art events to help support everyone in the hospital.

Passions/Interests:
Music and neurology (Oliver Sacks, Daniel Levitin); Bluegrass music (Rhiannon Giddens, Jerry Douglas, Ricky Skaggs, Vince Gill)

Career Highlights:
Finishing the 45 patient hours at Sarasota Memorial Hospital and earning my certification as a Therapeutic Music Practitioner.