Bassoon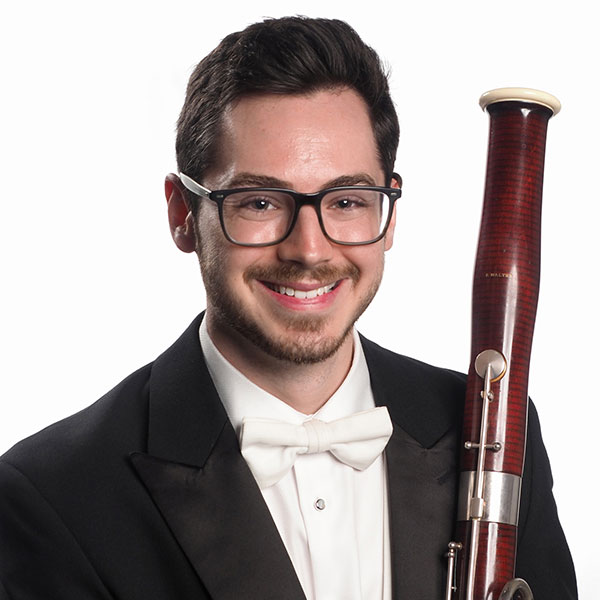 Miscellaneous Information
First year with SO: 2019

Hometown: Chicago, IL

Instrument: Eddie plays on a Walter bassoon that's about 10 years old.

---

Education:
Bachelor of Music – DePaul University; Master of Music – University of Maryland

Biography:
Eddie Rumzis couldn't be more excited to be joining the Sarasota Orchestra. He moved from Washington DC, where he previously served as acting second bassoon with the National Symphony Orchestra. As a freelancer, Eddie was fortunate to also perform with the Chicago Symphony, Eclipse Chamber Orchestra, Alexandria Symphony, and Fairfax Symphony.

Chamber music has always been a big part of Eddie's life as well. He was a member of District5 for five seasons. This ensemble was formed as the Fellowship Wind Quintet at UMD and has since earned a CMA Classical Commissioning Grant, performed all over DC, and designed educational programs for elementary schools, youth orchestras, and university wind ensembles alike. Eddie can be heard on the ensemble's debut album, the complete Chopin preludes, transcribed by David Plylar.

Passions/Interests:
When Eddie is not making reeds, he loves golfing, collecting records, hiking, playing board games, and watching his favorite teams (Arsenal/Hawks/Bears/Cubs).

Career Highlights:
"My most memorable career moment was probably my first concert in Moscow when I was on tour with the National Symphony. It was still one of my first concerts with an orchestra of that caliber, and on top of that, I had never been outside North America before, so it was a totally surreal, completely unforgettable experience.

Another favorite performance of mine will always be my first concert with the Chicago Symphony. I saw that orchestra play many times when I was a kid and throughout my undergrad at DePaul, so it was an incredible feeling to be standing on that stage while reflecting back on all of those memories."