September 23, 2017
Saturday | 7:30 pm | Sarasota Opera House
Discover the great epoch of rebirth with Renaissance, a program infused with the era's sprightly dance rhythms, jaunty melodies, and sense of invention. At once beautifully elegant and irrepressibly lively, Respighi's Ancient Airs and Dances offers a whimsical homage to a bygone age. Sarasota Orchestra principal flutist Betsy Traba sparkles in Lukas Foss's Renaissance Concerto, a work the composer describes as "a handshake across the centuries." Passionate melody and poignant emotion take center stage in George Walker's Lyric for Strings. Mozart's propulsive Symphony No. 25 in G Minor, made famous in the movie "Amadeus," adds a dash of Classical panache.
Praised for his "uncommonly expressive and detailed" performances (Miami Herald), rising young guest conductor Steven Jarvi leads the Sarasota Orchestra in a memorable night of time travel.
---
Our brand new Discoveries series offers a refreshing classical music experience at the Sarasota Opera House. These fast paced, 75-minute programs feature works by Mozart and Beethoven and today's most accessible living composers. Post-concert Talk Backs with the conductors and soloists finish off the evening.
RESPIGHI
Ancient Airs and Dances
Ancient Airs and Dances Suite No. 1
Ottorino Respighi (1879-1936)
Respighi holds a special place among Italian composers because his legacy is primarily in orchestral music, rather than opera. His Fountains of Rome and Pines of Rome are perennial audience favorites, but they are just the tip of the iceberg for this tuneful, imaginative composer.
He had a lifelong interest in Italian composers from the 17th and 18th centuries. In 1917 he arranged four early lute pieces for orchestra, calling them "Ancient Airs and Dances." That suite became so popular that Respighi followed with three additional groups between 1924 and 1932.
Each set of "Ancient Airs" comprises four Renaissance dances. Suite No.1 opens with a balletto (a dance-like polyphonic composition often with a fa-la-la refrain) by Simone Molinaro (c. 1565-1615). Next is a Gagliarda (galliard), a lively dance with unexpected rhythmic accents. This one is attributed to Vincenzo Galilei (1533-1599), father of the famous astronomer. It has a contrasting slower middle section.
The anonymous Villanella is simple 16th-century Neapolitan song form. Respighi's finale – composer also unknown – merges elements of the zesty Pass'e mezzo (literally "step and a half," performed at double speed) and the mascherada, a type of villanella performed at a masked ball. Throughout, Respighi's settings are respectful of the originals, yet sprinkled liberally with modern orchestral color, and perhaps revealing just the slightest wink in his eye.
---
Program Notes by Laurie Shulman ©2017
First North American Serial Rights Only

Laurie Shulman studied European History as an undergraduate, subsequently earning and M.A. and Ph.D. from Cornell University in historical musicology.
Lyric [Lament] for Strings (1941/6; rev. 1990)
George Walker (b.1922)
George Walker is a super-achiever. After graduating from high school at age 14, he attended Oberlin Conservatory in Ohio, then Philadelphia's Curtis Institute of Music, then Rochester's Eastman School – three of America's most prestigious schools of music.
Walker had an active career as a concert pianist in the 1940s, including appearances with Eugene Ormandy and the Philadelphia Orchestra. Increasingly, however, he focused on composition, and was soon rewarded with multiple grants, awards, and fellowships.
These accomplishments are the more remarkable because Walker is African-American. He established his reputation before Brown v. Board of Education, and sustained it through the civil rights turmoil of the 1960s. Along the way he composed some wonderful music. In 1996, he became the first African-American to win the Pulitzer Prize in music. He is now the recipient of six honorary doctorates, most recently from Spelman College in 2001.
Originally written in 1941, Lyric predates all Walker's major compositions. Also known as Lament, it was a memorial to his grandmother. Walker incorporated the movement into his First String Quartet, subtitled "Lyric." Walker revised Lyric in 1990. It remains his most frequently performed composition.
Lyric is often compared to Samuel Barber's beloved Adagio for Strings. Tonal, warm, and direct, it speaks to us directly from the heart, with gentle waves of sound lapping gently ashore. Each section has its turn at the principal melodic gesture, eventually building to an emotional climax. Simple and deeply felt, Lyric is a minor masterpiece that deserves to be heard more.
---
Program Notes by Laurie Shulman ©2017
First North American Serial Rights Only

Laurie Shulman studied European History as an undergraduate, subsequently earning and M.A. and Ph.D. from Cornell University in historical musicology.
Renaissance Concerto for Flute and Orchestra
Lukas Foss (1922-2009)
Lukas Foss came to America from his native Germany in 1937. Prodigiously gifted, he had a significant career as a virtuoso pianist, conductor and composer. His compositions reflect a profound respect for the past and an intense curiosity about the present and the future.
Foss also studied flute as a child. Thus, when flutist Carol Wincenc asked him to write a concerto for her in 1984, he already understood the instrument well. Ms. Wincenc premiered the concerto in 1988.
Foss described this concerto as "a handshake across the centuries." Some of his thematic material is original; elsewhere he took snippets of Renaissance tunes and developed them in his own style, stamping the work with a contemporary flavor.
The concerto opens with an Intrada, a festive opening piece, usually in march rhythm. Foss's Intrada, however, is slow, free and dreamy, exploring the rhapsodic capabilities of the flute, and it then switches to a brisk middle section. The music vacillates between the two tempi in successively brief segments; ultimately the trance-like atmosphere prevails.
Baroque Interlude is based on a harpsichord piece by the French master Jean-Philippe Rameau (1683-1764). Harpsichord becomes both partner and foil to the solo flute in a lively argument.
Recitative, borrowed from Monteverdi's 1607 opera L'Orfeo, is the emotional epicenter of Renaissance Concerto. The composer has included a complete recitative, with the soloist in the "vocal" role. An offstage string trio emulates a church echo. Foss calls for the flautist to "bend" certain pitches, enhancing the expressive quality of the music and adding to its aura of otherworldliness and mystery.
Jouissance implies pleasure of the soul and of the senses. This time the starting point is "Musing," a 1612 madrigal by Melville whose exuberant, spry ascending motive unleashes tremendous energy and excitement. Sparkling with orchestral color and rhythmic verve, Jouissance features a dramatic cadenza for flute and Renaissance drum, and a percussive flute technique called key-clicking. Renaissance Concerto is a 20th-century classic with wit and lasting appeal.
---
Program Notes by Laurie Shulman ©2017
First North American Serial Rights Only

Laurie Shulman studied European History as an undergraduate, subsequently earning and M.A. and Ph.D. from Cornell University in historical musicology.
MOZART
Symphony No. 25 in G Minor
Symphony No. 25 in G-minor, K.183, "Little G-minor"
Wolfgang Amadeus Mozart (1756-1791)
Much has been written about the significance of G minor in Mozart's music. Most late 18th-century works were in major mode, and Mozart composed relatively few works in any minor key. We know little about the circumstances of the G minor Symphony's composition, only that he completed it in Salzburg in October 1773. He was seventeen years old.
This early symphony is decidedly dramatic and arresting, pregnant with dramatic import and emotional weight, clearly demonstrating Mozart's already consummate compositional skill.
Joseph Haydn, Mozart's most distinguished older contemporary and a prolific symphonist, composed more than half a dozen symphonies in minor mode in the 1770s. Haydn was, of course, not alone. To a generation reared in the late Baroque era and making its way through the newer style galant, minor mode was an effective method of evoking drama, tragedy, introspection, nature's fury, or all manner of contrasting emotional states regularly encountered in opera. While the symphony we hear this evening was Mozart's first major orchestral foray in minor mode, he was certainly no newcomer to opera (nor by extension to minor mode), having composed six operas by 1773, including three for Milan.
A pulsing syncopation opens the first movement, followed immediately by a sharply ascending theme outlining the tonic key of G-minor. This is a fine example of the "Mannheim rocket, a rapidly rising melodic figure that became popular in the German music center of Mannheim.
All four movements are beautifully proportioned, showing a fine command of form and the elegant galant style. Particularly lovely are the sighing slow movement and the miniature wind serenade in the Minuet's central Trio section. With the exception of the Andante, Mozart offers little relief from the serious key, even in the last movement, where it was common to switch to major mode for the ending, if not for the entire movement.
The 25th symphony is a full scale work, full of dramatic import and emotional weight, and demonstrating consummate compositional skill. It is with good reason that this symphony is considered to be Mozart's first fully mature symphony. Despite the astonishing fact that the composer was not yet 18 when he composed it, it is clear that he was already an accomplished master.
---
Program Notes by Laurie Shulman ©2017
First North American Serial Rights Only

Laurie Shulman studied European History as an undergraduate, subsequently earning and M.A. and Ph.D. from Cornell University in historical musicology.
Featuring
Steven Jarvi
Conductor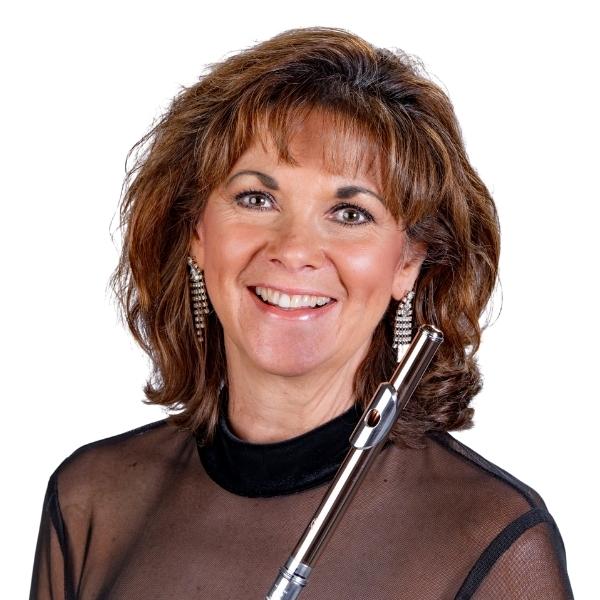 Betsy Hudson Traba, flute
Soloist